If you see extra Jeeps around town Saturday... they are supporting local law enforcement and encouraging you to say "Thank You."
The Kearney Jeep Club is leading the cause with the support of Platte Valley Auto. "There are so many times when the words Thank You are needed and we just miss the opportunity to say it. This is a chance to let those who serve our community in uniform know we appreciate them," - Marylyn Perry, Platte Valley Auto, "The Kearney Jeep Club has always been a great supporter of local law enforcement, and we are honored to help be an avenue to show that support."
EVENT DETAILS:
Saturday May 20th 11am - 1pm
Platte Valley Auto - Kearney - 4210 2nd Ave, Kearney NE 68847
The Go Topless Event is a Jeep tradition. In Kearney Jeeps will have their tops down and on display at Platte Valley Auto. Stop by and take a look at the different Jeeps and feel free to ask club members questions. If you are interested in buying a Jeep, just ask! This is the place to be!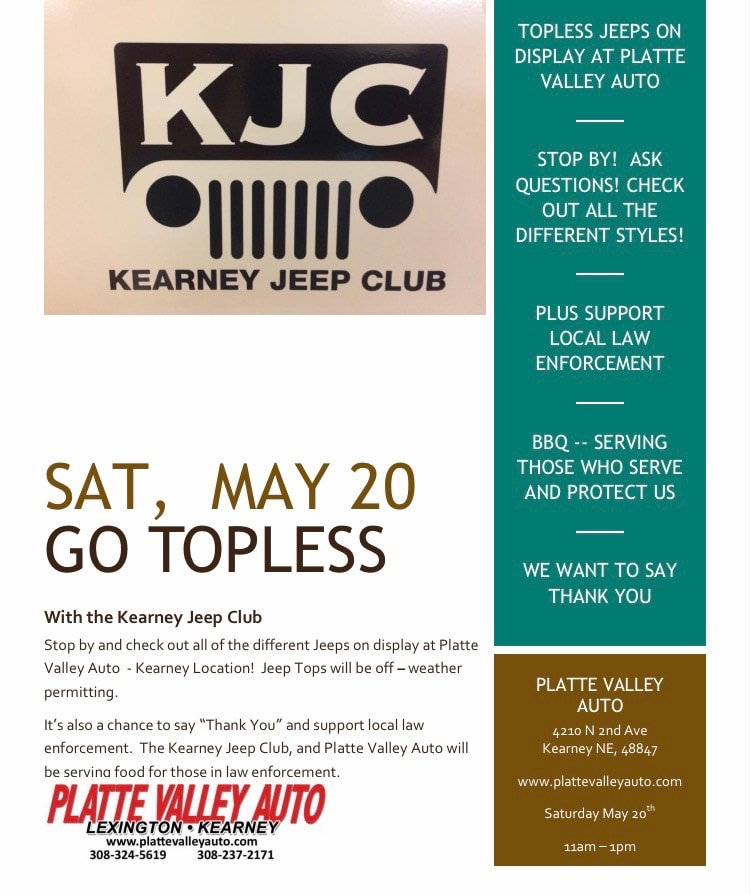 Also, walk in the showroom and meet out staff at Platte Valley Auto. There, you will be able to sign a Thank You poster we will present to our local law enforcement officers.
Also in appreciation for their service, there will be a BBQ for officers. The Kearney Jeep Club will be serving those who serve and protect us each day at Platte Valley Auto's Kearney location along 2nd Avenue.